In the previous part of this blog series, the 4 views of EIRA were discussed in detail. In this last part CarTool is explained and how it helps to document the European Interoperability Reference Architecture Framework.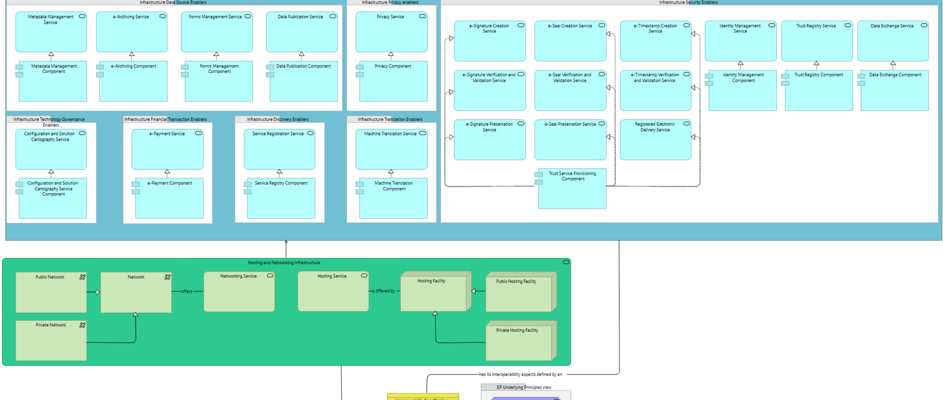 Download the full article here
The CarTool is a tool developed by the European Commission's ISA2 project to help using the European Interoperability Reference Architecture (EIRA) and access a portfolio (cartography) of solutions documented using the EIRA. The cartography tool (CarTool©) provides the reusable content based on the EIRA© metamodel. It includes both editing capabilities for modeling solutions with EIRA© and querying functions to query an EIRA©-based solution cartography. It was developed as a plug-in for the popular open source modeling tool ArchiMate® Archi®, which builds on its modeling capabilities and provides better EIRA support. The CarTool itself is open source and is distributed under the license "ISA Product License v1.3".
Using the CarTool requires that EIRA and its concepts are familiar to all stakeholders. EIRA is a reference architecture for the provision of interoperable ICT solutions that support cross-border and cross-sectoral public services. It defines the necessary functions to promote interoperability as a set of architecture building blocks (ABBs), where Solution Building Blocks (SBBs) are their specific instances within solutions. EIRA also specializes in the use of Solution Architecture Templates (SATs) that provide designs for specific types of solutions, possibly in specific domains.
The main purpose of CarTools is to create and maintain a cartography of the solutions that the EIRA uses as a structure. The CarTool can be used by architects, analysts and portfolio managers in European and national public administrations for the following purposes:
Development of ICT solutions: development of new solutions based on the EIRA and its SATs using existing reusable solutions and proposed interoperability standards.
New legislative proposals: Assess the ICT impact of policy changes by finding related solutions in solution cartography.
Public procurement: definition of tender specifications on the basis of the proposed standards and use of specific building blocks.
Portfolio management: Support in managing and streamlining a solution portfolio and comparing solution architectures.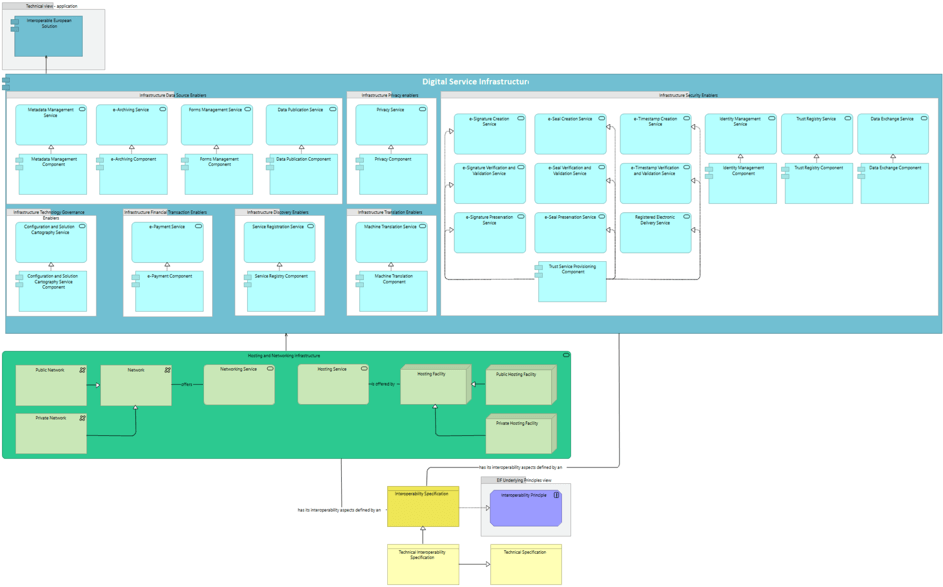 The CarTool responds to Member States' central demand for a tool to model their EIRA-based solutions as a standard reference architecture and implement their national cartographies in accordance with the EIRA structure. The key benefits of Cartool are as follows:
It is a free plug-in designed for use in Archi® (also free).
No special permissions or prerequisites are required for
It provides world-class support for the EIRA and simplifies the use of the EIRA in both modeling new and querying existing solutions.
Re-use is encouraged by making proposals based on modelling.
Improves data quality by minimizing manual work and ensuring consistency.
It allows offline use and customization so that it can be adapted to work requirements.
TOGAF, EIF en EIRA
EIRA and CarTool are great for developing an architecture that provides public digital services. In order to develop an architecture, it is advantageous to use a proven approach. The Architecture Framework of the Open Group, TOGAF, is ideally suited for this purpose. It actively encourages the Enterprise Architects to use the Architecture Development Method, adapt it to the circumstances and adopt.