ArchiMate® 3 Training Classroom or Live Online
The best-rated accredited ArchiMate® Training in the Benelux. The international graphic language for modeling Enterprise Architectures. We certify you in 3 days!
TOGAF® and ArchiMate® are registered trademarks of The Open Group.
What is the ArchiMate

®

standard?
Architecture is about communication. As the IT landscape of organizations is becoming increasingly complex and innovations and changes follow each other ever faster, it is important to create a common picture of how IT is organized. In order to do this properly, we need a shared visualization language and clear agreements on how to use this language.
The ArchiMate® standard is the international graphical language for modeling enterprise architectures. This visualization language offers a uniform and integral way to describe, analyze and visualize architectures. It distinguishes itself from other modelling languages such as UML or BPMN because it is more conceptual and focuses less on the details. This makes it possible to provide insight into the structure and cohesion of business processes, organizational structures, information flows and technical infrastructure. ArchiMate® uses a generic metamodel, with 6 layers and 4 domains in which all elements can be placed.
Enables modeling of stakeholders, drivers for change, business objectives, principles and requirements.
Represents the behavior (processes, functions, events and services) performed by the actors.
Represents the structural elements, think of business actors, application components and devices that actually exhibit behavior; i.e. the "subjects" of activity.
Represents the objects on which behavior is performed. These are usually information objects in the Business Layer and data objects in the Application Layer, but they can also be used to display physical objects.
Why choose for ArchiMate

®

?
The ArchiMate language is the approach for modelling and improving architecture.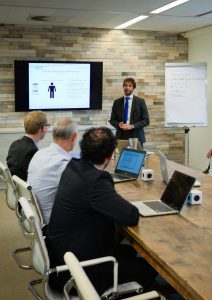 ArchiMate is worldwide accepted
as number 1 enterprise architecture language.
60% of the Fortune 500 companies
uses the ArchiMate modelling language.
80% of the top Global 50 companies
uses ArchiMate.
Benefits ArchiMate

®

3 Practitioner training
This ArchiMate
®
training offers the following advantages:
In this ArchiMate® 3 Training you will be guided by experienced trainers and you will work together with other students. At the end of the training you will have acquired sufficient knowledge to apply the ArchiMate® modelling language in your daily work and pass the exams.
Do you want to take your business one step further? Then sign up directly for our ArchiMate® training course. For more information you can download the ArchiMate® quick start guide for free.
What do you learn in this accredited ArchiMate

®

 Training?
In our ArchiMate 3 Practitioner Training, accredited by The Open Group, you will learn all about both the theoretical and practical side of ArchiMate. This way you will successfully take the ArchiMate exams and help your organization one step further!
On the first training day we will introduce you to Enterprise Architecture and ArchiMate®. It also becomes clear how ArchiMate® is structured and what the route to ArchiMate® Certified Professional looks like. On the program are among others:
Introduction and information about the exams
Language structure
Relationships & Nesting
Core Layers & Elements
Business
Grouping and composite
Application
Technology
ArchiMate® & EA
Motivation
Practical exercises
Official practice questions for the examinations
Evaluation
On the second training day  we will introduce you to the other ArchiMate® layers, practice with modeling and make practice exam questions. On the program are among others:
Summary day 1
Strategy layer
Implementation and Migration Layer
Language Specifications
Cross layer dependencies
Derivative Relationships
Stakeholders, views and opinions
Language adjustment
Practical exercises
Official practice questions for the examinations
Evaluation
At The Unit Company you can choose between an accredited 2-day or 3-day ArchiMate® training course. If you choose the 3-day variant, we will certify you within one week for both ArchiMate® exams. On this last training day both ArchiMate® exams are scheduled, whereby the trainer will take the exams. The program is as follows:
Question time
ArchiMate® Level 1: Foundation exam
ArchiMate® Level 2: Practitioner exam
The study materials we developed and accredited by The Open Group are sold by the publisher of The Open Group worldwide and used in ArchiMate training courses. So you are assured of the best course material!
The total amount of study load is equal to the contact hours with the trainer. This means that there is no study load outside of the training. The following applies to this training:
Day 1: 9:00 a.m – 4:30 p.m (7.5 hours)
Day 2: 9:00 a.m – 4:30 p.m (7.5 hours)
Day 3: 9:00 a.m. – 2:00 p.m. (5 hours)
This amounts to a total study load of 20 hours
HR Manager? Go for Incompany ArchiMate® training at your own location! 
The Unit Company provides complete accredited Archimate training at your office.
The volume benefit is yours.
Classroom and virtual learning
Delivered as classroom training. Do you prefer to follow training from home? No problem, you can also participate virtually.
It is also possible to attend the classroom training remotely: this way you do have the interaction of a classroom training but do not need to be physically present. We use an advanced camera setup, so you always have the presentation materials, the participants and the trainer in view. A training full of interaction!
ArchiMate

®

 training investment including exams passing protection.
ArchiMate® 3 Training
€ 1.775,-including exams worth € 550,-
2 days training
Including exam voucher
ArchiMate® Pocket guide
ArchiMate® ebook
Practice exams
Exam passing guarantee

Exams on training location
ArchiMate® 3 Training
€ 1.995,-including exams worth € 550,-
3 days training
Including 2 exams
ArchiMate® Pocket guide
ArchiMate® ebook
Practice exams
Exam passing guarantee

Exams on training location
What do our customers think?
Already 2,578 participants preceded you. From IT and Enterprise architects to project managers and software developers.
The trainer is a very experienced architect, who has a lot of practical experience. He doesn't just know the theory, he's really done it. This helps enormously with the conveying the matter. Adequate training!
The training has a very clear structure, helps very well in getting the right level of understanding of the TOGAF® 9 framework. The trainer is very knowledgeable, both from a theoretical as well as a practical point-of-view. The training contents, trainer knowledge and course participants all add to the total experience of getting to know the TOGAF® framework methodologies and their application in every day's practise, very well.
We are proud to educate professionals from the following organizations: