What is the ArchiMate® Standard?
Architecture is all about communication. As the IT landscape of organizations becomes more complex and innovations and changes follow each other faster and faster, it is important to create a common picture of how IT is organized. In order to do this properly, a shared visualization language is required and clear agreements are made about how we use this language.
The ArchiMate® Standard is the international graphic language for modeling enterprise architectures. This visualization language offers a uniform and integral way to describe, analyze and visualize architectures. It distinguishes itself from other modeling languages such as UML or BPMN because it is more conceptual and focuses less on the details. This makes it possible to provide insight into the structure and coherence of business processes, organizational structures, information flows and technical infrastructure.
The ArchiMate language consists of three core layers: the Business, Application and Technology layers and various elements that underlie to model the architecture such as strategy and motivation, as well as the implementation and migration.
The layers:
Strategy: the engagement approach: How am I going to tackle this, which people and resources are needed to achieve the change.
Business: shows the business services offered to customers. These are realized in the organization by business processes, which are executed by business actors.
Application: displays the application services that support the company and the applications they realize.
Technology: Displays the technological services such as processing, storage and communication services that are required for the applications. Includes the computer and communication hardware and system software that realize these services.
Physical: Physical elements can be added to the technology layer for modeling physical equipment, materials and distribution networks.
Implementation & Migration: enables modeling of project and portfolio management, gap analysis and transition and migration planning.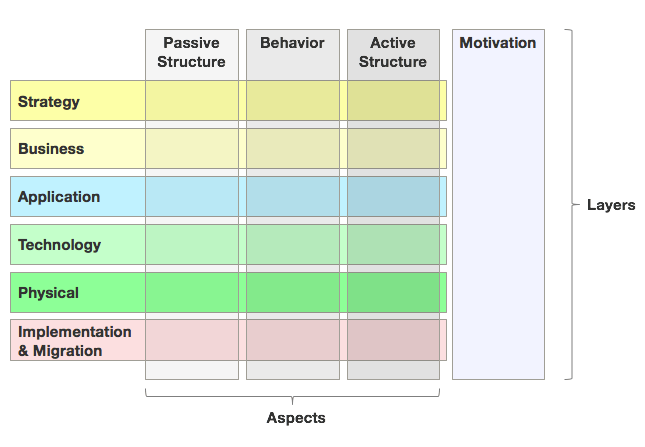 The elements:
Motivation: Enables modeling of stakeholders, drivers for change, business objectives, principles and requirements.
Behaviour: represents the behavior (processes, functions, events and services) performed by the actors.
Active structure: represents the structural elements, think of business actors, application components and devices that actually exhibit behavior; i.e. the "subjects" of activity.
Passive structure: represents the objects on which behavior is performed. These are usually information objects in the Business Layer and data objects in the Application Layer, but they can also be used to display physical objects.
ArchiMate® and TOGAF®
ArchiMate is often used in combination with TOGAF®. The image on the right shows a simplified representation of how the ArchiMate language can be used in relation to the phases of the TOGAF® Architecture Development Method (ADM).
The Business, Application and Technology Layers support the description of the business, information systems and technology architecture domains defined by the TOGAF® framework, as well as their interrelations.
The strategy and motivational elements within ArchiMate® can be used to support the Requirements Management, Preliminary and Architecture Vision phases of the TOGAF® ADM, which define high-level business objectives, architecture principles and initial business requirements. These are also relevant to the Architecture Change Management phase of the TOGAF® ADM, as this phase is related to changing requirements.
The implementation & migration elements of ArchiMate support the implementation and migration of architectures through the Opportunities and Solutions, Migration Planning and Implementation Governance phases of the TOGAF ADM.
Why the ArchiMate® standard?
The advantage of ArchiMate® is that it is a standardized language, so anyone who knows and uses the language can read it. Visualizing with ArchiMate® is called modeling. ArchiMate® makes it possible to model both the business side (processes, services, people who carry out the business activities), but also the technology, or the applications and infrastructure. With the latest version of ArchiMate® it is even possible to model production companies and logistics flows.
What is powerful about ArchiMate® is that you can not only show the structure and coherence, but it also shows how information goes through a process, or how a process stores information in applications. In short, with ArchiMate® you can visualize all kinds of dynamic behaviour.
ArchiMate® is about architecture and it gives direction to design.
ArchiMate® can help in a transformation (architectural change), to motivate the need for change, but also the substantive change itself.
ArchiMate is about coherence, information flow or the dynamic behaviour of an architecture.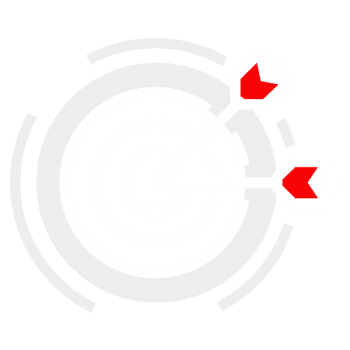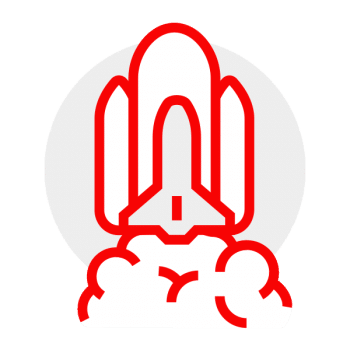 The 10 benefits of the ArchiMate® standard
Using ArchiMate® visualization in your organization has many advantages, both for business and IT.
ArchiMate® bridges the gap between business strategy and IT execution
ArchiMate® ensures an unambiguous approach
ArchiMate® ensures a uniform language so that you appoint things in the same way
ArchiMate® provides governance
ArchiMate® supports revenue generation and cost reduction by enabling faster, smarter projects
ArchiMate® provides transparency for business stakeholders
ArchiMate® ensures alignment of IT budget and business strategy and objectives
ArchiMate® stimulates smart reuse of existing processes, applications and infrastructure
ArchiMate® ensures sustainable business agility
ArchiMate® facilitates a pragmatic approach for IT projects
Convinced of the ArchiMate® standard? Sign up now for our ArchiMate® 3 Training Course
For whom?
ArchiMate® is suitable for:
Enterprise Architects
IT Architects
Solution Architects
Business Architects
Project Managers
IT Specialists
Software developers
(IT) Managers
Business Analysts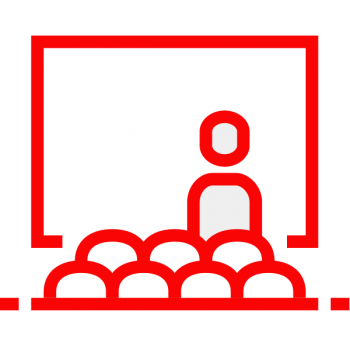 ArchiMate® Standard practical case study
In the video below you will learn how to use ArchiMate® for effective application management. The goal of this video is: 'how to do more with less' in delivering innovation and new business initiatives.
Our vision on ArchiMate® 3 Training Course
In essence, architecture is about guiding decision making in short and long term changes. Since every architect, manager and designer has his own language, there is a need for a uniform way of communication. In our opinion, ArchiMate is a good option for this since it connects the business with the ICT and allows it to be recorded unambiguously throughout the entire change cycle from idea to realization.
In our training you will learn about Enterprise Architecture and all facets of ArchiMate®. The training consists of theoretical and practical aspects of ArchiMate so you will learn to apply the modeling language in practice. Within the training you will be guided by experienced trainers and you will work together with other students. After the training you will have sufficient knowledge to apply ArchiMate® in your daily work and to pass the exams.
Our ArchiMate® 3 Foundation and Practitioner training is accredited by The Open Group.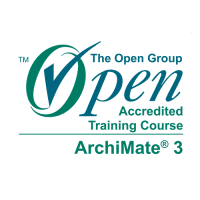 What do you learn in our accredited ArchiMate® Training Course?
In our ArchiMate® training, accredited by The Open Group, you will learn all about Enterprise Architecture and ArchiMate® to successfully pass the ArchiMate® exams. If you choose our 3-day training, you will also be certified within 1 week! In the diagram below you can read what the themes are per training day.
On the first training day we will introduce you to Enterprise Architecture and ArchiMate®. It also becomes clear how ArchiMate® is structured and what the route to ArchiMate® Certified Professional looks like. On the program are among others:
Introduction and information about the exams
Language structure
Relationships & Nesting
Core Layers & Elements
Business
Grouping and composite
Application
Technology
ArchiMate® & EA
Motivation
Practical exercises
Official practice questions for the examinations
Evaluation
On the second training day  we will introduce you to the other ArchiMate® layers, practice with modeling and make practice exam questions. On the program are among others:
Summary day 1
Strategy layer
Implementation and Migration Layer
Language Specifications
Cross layer dependencies
Derivative Relationships
Stakeholders, views and opinions
Language adjustment
Practical exercises
Official practice questions for the examinations
Evaluation
At The Unit Company you can choose between an accredited 2-day or 3-day ArchiMate® training course. If you choose the 3-day variant, we will certify you within one week for both ArchiMate® exams. On this last training day both ArchiMate® exams are scheduled, whereby the trainer will take the exams. The program is as follows:
Question time
ArchiMate® Level 1: Foundation exam
ArchiMate® Level 2: Practitioner exam
The total amount of study load is equal to the contact hours with the trainer. This means that there is no study load outside of the training. The following applies to this training:
Day 1: 9:00 a.m – 4:30 p.m (7.5 hours)
Day 2: 9:00 a.m – 4:30 p.m (7.5 hours)
Day 3: 9:00 a.m. – 2:00 p.m. (5 hours)
This amounts to a total study load of 20 hours.
Convinced of the ArchiMate® standard? Sign up now for our ArchiMate® 3 Training Course
How do the exams look like?
To become an ArchiMate® Certified professional, you must pass two exams: the Foundation (level 1) exam and the Practitioner (level 2) exam. The exams are as follows:
Foundation (Level 1)
40 multiple choice questions
You may not use the book during the exam
You will have 60 minutes, 90 minutes if the English language is not your native language.
You pass the exam with 24 correct answers (60%)
Practitioner (Level 2)
8 scenario based multiple choice questions
You may use the book during the exam.
You will have 90 minutes, 120 minutes if the English language is not your native language
You pass the exam with 26 correct answers (65%)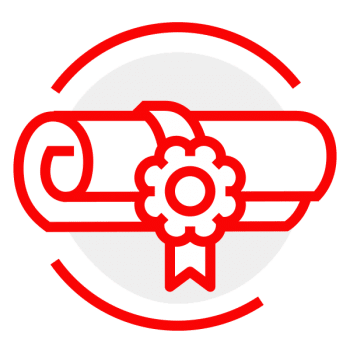 Want to know more about the ArchiMate® standard?
Ask your ArchiMate® question here, we will contact you within 24 hours.